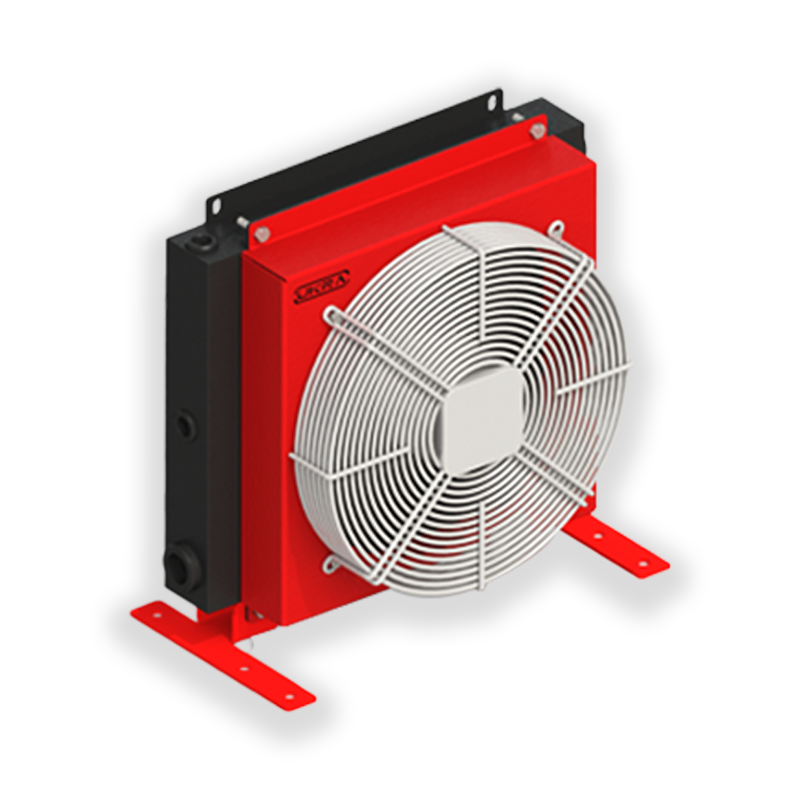 UMB Air-Oil Heat Exchanger
UKRA UMB air oil coolers allow the fluid to be cooled in hydraulic systems by electric or hydromotor driven fan. Coolers are manufactured from high-strength aluminum alloys. Efficiency is maximized by the special design of turbulators inside the oil flow channels.
By-pass Valve is included in UMB series coolers. Moreover, it operates without the need for an external by-pass valve in the system at rapid pressure changes and overloads. Designed in world class with advanced technology, our chillers have a low noise level, strong design and high cooling performance, suitable for demanding working conditions.
It is cooler models with low and high KW cooling capacity.
Models with permeability up to 1000 lt/Min are available.
Moreover, AC motor, DC motor, hydraulic Motor, electric Motor models are available.
Catalogs
| PDF CATALOG | SOLID | PRODUCT CODE | OIL FLOW MIN-MAX | MAX COOLING CAPACITY | VOLTAGE | AIR | Ø FAN |
| --- | --- | --- | --- | --- | --- | --- | --- |
| | | | L/min | KW | V | m³/h | mm |
| | | UMB-A12-24 | 10-40 | 3 | 24 DC | 560 | ø167 |
| | | UMB-A13-12/24 | 20 - 80 | 6,5 | 12/24 DC | 1.060 | ø225 |
| | | UMB-A14-12/24 | 40 - 100 | 10 | 12/24 DC | 1.060 | ø225 |
| | | UMB-A15-12/24 | 60 - 120 | 14 | 12/24 DC | 1400 | ø280 |
| | | UMB-A16-12/24 | 80 - 140 | 25 | 12/24 DC | 1.710 | ø305 |
| | | UMB-A17-12/24 | 100 - 160 | 30 | 12/24 DC | 2.630 | ø385 |
| | | UMB-A18-12/24 | 120 - 200 | 35 | 12/24 DC | 2.800 | ø280 x 2 |
| | | UMB-A19-12/24 | 150 - 250 | 40 | 12/24 DC | 2.630 | ø385 |
| | | UMB-A20-12/24 | 180 - 300 | 50 | 12/24 DC | 3.420 | ø305 x 2 |
| PDF CATALOG | SOLID | PRODUCT CODE | OIL FLOW MIN-MAX | MAX COOLING CAPACITY | VOLTAGE | AIR | Ø FAN |
| --- | --- | --- | --- | --- | --- | --- | --- |
| | | | L/min | KW | V | m³/h | mm |
| | | UMB-A12-01 | 10-40 | 3 | 230 AC | 450 | ø160 |
| | | UMB-A13-01 | 20 - 80 | 3 | 230 AC | 680 | ø200 |
| | | UMB-A14-01 | 40 - 100 | 6,5 | 230 AC | 680 | ø200 |
| | | UMB-A15-01 | 60 - 120 | 10 | 230 AC | 1.000 | ø250 |
| | | UMB-A15-02 | 60 - 120 | 14 | 400 AC | 1.200 | ø250 |
| | | UMB-A16-01 | 80 - 140 | 14 | 230 AC | 1.700 | ø300 |
| | | UMB-A16-02 | 80 - 140 | 25 | 400 AC | 2.000 | ø300 |
| | | UMB-A17-01/02 | 100 - 160 | 30 | 230/400 AC | 2.900 | ø350 |
| | | UMB-A18-01 | 120 - 200 | 35 | 230 AC | 2.000 | ø250x2 |
| | | UMB-A18-02 | 120 - 200 | 35 | 400 AC | 2.400 | ø250x2 |
| | | UMB-A19-01/02 | 150 - 250 | 40 | 230/400 AC | 2.900 | ø350 |
| | | UMB-A20-01/02 | 180 - 300 | 50 | 230/400 AC | 6.900 | ø500 |
| | | UMB-A21-01/02 | 250 - 500 | 75 | 230/400 AC | 8.000 | ø400 x 2 |
| | | UMB-A22-01/02 | 180 - 300 | 50 | 230/400 AC | 6.900 | ø500 |
| PDF CATALOG | PRODUCT CODE | OIL FLOW MIN-MAX | MAX COOLING CAPACITY | VOLTAGE | AIR | Ø FAN |
| --- | --- | --- | --- | --- | --- | --- |
| | | L/min | KW | V | m³/h | mm |
| | UMB-A15-03 | 60 - 120 | 14 | 24 DC | 1.480 | ø250 |
| | UMB-A16-03 | 80 - 140 | 25 | 12/24 DC | 2.390 | ø300 |
| | UMB-A17-03 | 100 - 160 | 30 | 12/24 DC | 4.080 | ø350 |
| | UMB-A19-03 | 150 - 250 | 40 | 12/24 DC | 4.080 | ø350 |
| | UMB-A20-03 | 180 - 300 | 50 | 12/24 DC | 7.200 | ø500 |