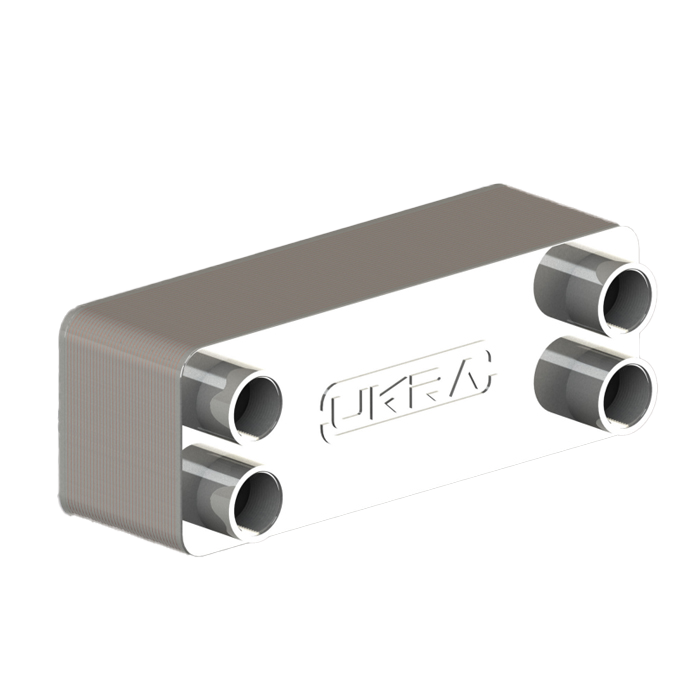 UPP Series plate oil cooler is designed to provide heat transfer between two fluids. It is produced from stainless steel plates in small sizes and light weight to ensure high heat transfer performance. Thanks to its high performance, it reduces the cost of operation by requiring less cooling water.
Plate cooler models with cooling capacity of 20-400 KW are available. It is made of stainless steel and the plate soldering process is made with copper.
The plates are produced from Aisi 316 rusting steel.
Plates made of stainless steel are combined with copper in vacuum furnaces.
Turbulence channels on the plates provide effective heat transfer and mechanical strength.
It is possible to use other fluids such as hydraulic oil – water or water-glycol mixture.
Hydraulic Presses,
In Large Reducers,
Hydraulic System Designs,
Mill Manufacturers, In Cement Factories,
In Hydraulic Materials Companies,
Iron and Steel Mills and Rolling Mills,
Large Machine Manufacturers,-Pipe Manufacturers,
Spraying machines, pump aggregates,
Compressor manufacturers use.
| PDF CATALOG | PRODUCT CODE | OIL FLOW MIN-MAX | MAX COOLING CAPACITY | VOLTAGE | AIR | Ø FAN |
| --- | --- | --- | --- | --- | --- | --- |
| | | L/min | KW | V | m³/h | mm |
| | UPP-01-26 | 80 | 20 | | | |
| | UPP-02-24 | 130 | 35 | | | |
| | UPP-02-34 | 180 | 40 | | | |
| | UPP-02-40 | 220 | 48 | | | |
| | UPP-02-50 | 250 | 70 | | | |
| | UPP-03-30 | 280 | 90 | | | |
| | UPP-03-60 | 300 | 120 | | | |
| | UPP-04-16 | 320 | 85 | | | |
| | UPP-04-24 | 500 | 110 | | | |
| | UPP-04-30 | 600 | 150 | | | |
| | UPP-04-38 | 700 | 200 | | | |
| | UPP-04-46 | 800 | 250 | | | |
| | UPP-05-100 | 1200 | 400 | | | |